Cut the Cord and de-fund Woke
Cut the cable / satellite cord and watch less secular TV. Spend more time in the Word and service to Him. You won't believe your life change when the TV goes lights out. Who needs the NFL, CNN, ESPN, etc. anyway?
Redeem your life.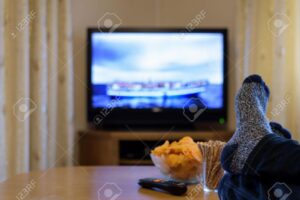 We recommend ROKU over FireStick and AppleTV because those apps can run in the ROKU. That way, you are not stuck in the Apple Store like when you have an AppleTV.
ROKU Channels
PureFlix – Family entertainment like Netflix without any MA rated smut. $70/yr.
Roku Channel – Classic TV. Free
ShoutTV – Classic TV. Free
Pluto – Free TV
VUDU – Rent and Buy secular movies.
The First – Conservative News
Epoch TV – Conservative News
ROKU Christian Channels
Add these channels from the Roku.
Answers.TV – Excellent Christian resources. $39/yr
Awesome Science TV – Excellent Science Content. $69.99/yr
AGTV – Excellent Christian resources. $65/yr
RedeemTV – Christian entertainment. $25/yr
Canon+ – Christian Resources. 79.99/year
SingingNewsTV – Christian music and classic tv/movies. $99/yr
Genesis Science Network – Free
I hear even Christians complain about these prices, but the monthly cost is $29/month for everything listed here. Think about the smut supported with the $65 and up for secular TV. Wouldn't it be better to cut the secular cord and support good Christian content? This is an easy way to fight the woke culture.
What about sports? It depends on what sports you watch. If you need all of the networks and watch all sports, just get cable.
You can switch between YouTubeTV, FuboTV, DirecTVNow, and Sling to get 4 free weeks.
Also, Satellite Radio is a great option. No more having to watch 2 dudes or 2 girls getting married on commercials.
ROKU TV Casting
With ROKU you can cast some content from your phone. Here are some examples.
YouTube – Add the YouTube channel (not YouTube TV) to ROKU. You can go to YouTube on the computer, save things you want to watch and then see them in big screen on ROKU. Add these to your favorites on you computer:
Go to this YouTube and subscribe to the ministry pages listed. Then, on the Roku, when you go to your YouTube page, these channels will be in your subscription list.